Dental implants are an ideal long term solution to replace missing teeth. Implants replicate the function and aesthetics of a normal tooth, thus restoring a patients' confidence.
Unlike dentures, implants are a fixed option, meaning you do not need to remove them and you do not fixative to hold them in.
Unlike a dental bridge, implants do not require teeth to be present either side of the gap (which is the case for a dental bridge as this involves capping and anchoring to the adjacent teeth).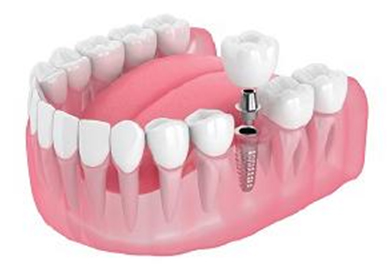 Single Implant
Single implants replace a missing tooth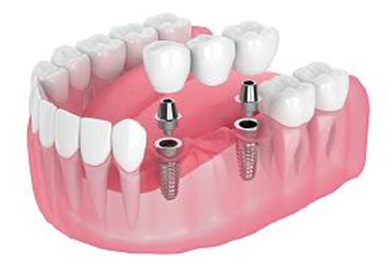 Implant Bridge
Implant bridges can restore multiple adjacent missing teeth. Unlike a traditional bridge (conventional bridge) the dentist does not need to prepare teeth either side of the gap meaning this is a less invasive option for the possibly otherwise healthy teeth either side of the gap.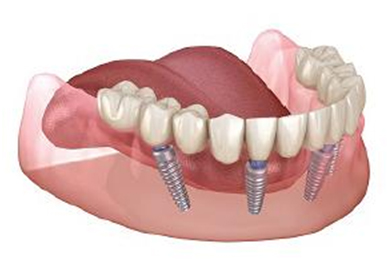 Teeth in a Day (All-on-4 / All-on-6)
Patients missing all teeth in the arch can have 4 or 6 dental implant screws placed, and on top a long span implant bridge, thus replacing multiple teeth.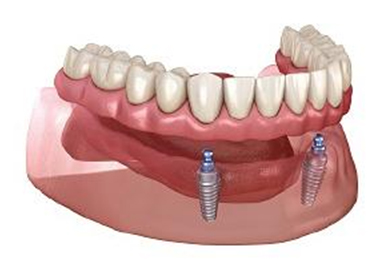 Overdenture (Implant-Supported Denture)
Overdentures replace an entire arch of missing teeth, either top, bottom or the full mouth. These can either be fixed or removable depending on your requirement.
What is the procedure?

1. Initial implant consultation
Patient's must book an initial consultation with our dentist. At this appointment he/she will perform a dental examination, review your medical history, and discuss all options available to you including pros and cons, and financial costs.
If you have not yet had the tooth removed, our dentist can arrange this for you.
2. Further investigations
If you are interested in implants, and the dentist deemed you a suitable candidate, the dentist will arrange for further investigations e.g. x-rays such as a CT scan which will be performed at a location close to you. The dentist may take additional x-rays and impressions of your mouth for our diagnostic records.
3. Review
Once the dentist has all your records, he/she will discuss whether or not you have enough bone to proceed. If you have insufficient bone, this does not necessarily mean you cannot have an implant, it may mean you need further treatment such as a bone graft.
4. Implant procedure
This involves numbing up the area, placing the titanium screw in the jaw bone. it is likely that titches will be placed in which case you may be asked to come back 2 weeks later to have these removed. Once the implant heals (usually between 3-6 months) the artificial tooth/teeth can be placed on top. During the healing period, a temporary tooth/teeth can be placed on top or a temporary removable appliance. This will all be discussed further with your dentist during your consultation as this case dependant.
5. Maintenance
It is important that you attend your review appointments with the dentist and maintain good oral hygiene at home as well as regular visits with our dental hygienist.