The Benhill Team
Dr Athina Taxiarchou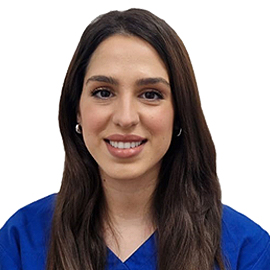 BDS
Associate Dentist
GDC No. 287865
Interests:
General dentistry
Endodontics (root canal therapy)
Cosmetic dentistry
Paediatric dentistry
Athina graduated with a Bachelor's Degree in Dentistry from the Aristotle University in Thessaloniki in 2017. After completing her degree, she began working in a dental clinic in Greece with special interest in root canal treatments. Here she gained valuable experience in various dental procedures and especially in dealing with dental pain and taking a 'saving the tooth' approach.
Since January 2021, Athina has been working as an NHS dentist, providing high-quality dental care to her patients. Athina is dedicated to staying updated with the latest advancements in dentistry and continuously improving her skills. She believes in the importance of continuing education and attends dental courses and seminars to expand her knowledge and expertise.
Athina is passionate about general dentistry and is skilled in performing a wide range of dental treatments for patients of all ages. She strives to provide comprehensive and personalised care, focusing on her patients' unique needs and concerns. Her gentle and compassionate approach helps patients feel comfortable and at ease during their dental visits.
With her knowledge, skills, and compassionate approach, Athina is dedicated to helping her patients achieve optimal oral health and beautiful smiles.
Athina has a particular interest in endodontics (root canal therapy), cosmetic dentistry and paediatric dentistry. Her dedication to evidence-based dentistry and her commitment to regularly attending restorative courses ensure that she provides the most effective and up-to-date treatments to her patients.
Outside of dentistry, Athina enjoys travelling, exercising regularly and cooking.