The Benhill Team
Dr Salam Aziz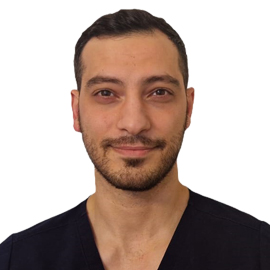 BDS, BSc Hons,
Associate Dentist
GDC No. 259317
Interests:
Invisalign and Fixed braces
Aesthetic and Restorative Dentistry
Salam qualified from Bart's and the Royal London School of Medicine and Dentistry in 2015 and also has a Bachelor Degree in Biomedical Science which he completed in 2011. Salam has since continued his professional development in his areas of special interest, Orthodontics and Restorative dentistry by completing various courses. Examples include; 'Certificate in Orthodontics' and 'Certificate in Advanced Operative Aesthetic and Restorative Dentistry' from the prestigious Aspire Dental Academy. Alongside his clinical work, Salam enjoys teaching and was appointed a Dental Trainer in 2019, which involves guiding new dentists through their first year in practice.
Through his extensive postgraduate training he has honed his skills to provide a high level of care to patients and is willing to go that extra mile to ensure that all his patients are comfortable and receive pain free dentistry. Salam believes in minimal invasive dentistry and is passionate about aiding his patients to achieve their functional needs and aesthetic wishes through caring and comprehensive treatment. Salam has helped hundreds of patients achieve their goal of improving their smile and straightening their teeth through the use of Invisalign and Fixed braces and therefore brings a wealth of experience to Benhill Dental Practice.