If you think you are weird to be scared of the dentist at your age, you will be relieved to know that you are not alone. In fact, about 13% of the world's population suffers from dental phobia. Phobia is more than being a bit nervous that you might have to have a filling. It's the extreme end of nervousness, with trembling and sweats and even full-blown panic attacks.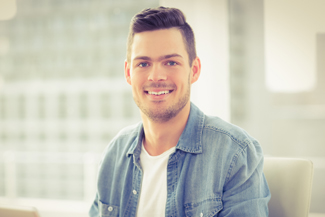 If 13% of people worldwide suffer from feelings that extreme, you are totally entitled to be scared. In the dental world, we like to lump the spectrum of fear of the dentist into one umbrella term of nervous patients. We recognise that you exist in great numbers and that your fears are to be taken seriously. It's not just in your mind, it's in your body too.
The trouble is that when you are scared of the dentist, it can be all too easy to put off your check-up appointments. Finding excuses not to go is simple and before you know it, it's been 6, 9, 12 months, maybe even years since your last check-up.
The trouble with avoiding check-ups is that problems that would have been quick and easy to fix become more serious and require more invasive treatment. That tiny filling turns into root canal therapy. Plaque become tartar becomes gum disease becomes root planing and gum grafts.
It's important to realise that dentistry has come on in leaps and bounds over the past couple of decades and we now have much gentler techniques and lots of local anaesthetic, so you never have to feel a thing when we treat you.
Dental clinics are also much nicer environments to be in. Benhill Dental Practice in Sutton is designed to make you feel welcome and relaxed. The staff too have been trained to help you feel at home as soon as you step in through the door.
We will take time to listen to your fears and work out strategies to deal with them. We also have sedation if you think you are not going to be able to go through treatment without feeling very anxious.
Come on back to the dentist and feel great about your smile again.