Do hot or cold beverages cause you to hold your mouth in pain? It sounds like you might be experiencing tooth sensitivity. Sensitive teeth are a result of weakened enamel, worn down and scraped away over the years, that leaves your tooth roots exposed and unprotected. The unpleasant sensation, which can vary from a slight twinge to extreme pain, could also be signs of gum disease or a broken tooth that has cracked to your gumline.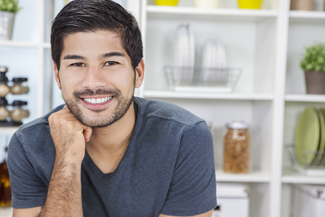 If your sensitivity issues are an ongoing struggle, come to our clinic, Benhill Dental Practice, so that we can find the source of your troubles.
What is enamel and what role does it play in my mouth?
Teeth are healthy when the enamel, the protective outer layer, is strong and safeguards the mouth from the onslaught of germs.
What could potentially damage this enamel?
However, daily exposure to highly acidic and sugary food and drinks wears down enamel, weakening and eventually eroding the layer altogether, leaving the inside of a tooth vulnerable to the elements. When this happens, you are likely to experience varying levels of discomfort, dependent on the extent of the damage. If you decide to consume these beverages on the odd occasion, our advice is to drink them in one sitting and through a straw; the less contact your teeth have with these sugary substances, the better.
People also incorrectly assume that vigorously brushing your teeth is the only way to remove germs. Your actions might be effective in getting rid of bacteria, but you are also slowly scraping away vital enamel. We recommend that you gently brush your teeth using a soft-bristled toothbrush. This method of cleaning prioritises oral health without damaging your teeth's outer layer.
Conversely, some of our patients do not spend enough time cleaning their teeth, and as a result, plaque builds up, eventually calcifies into tartar which can lead to the development of the gum disease called Gingivitis. A visible symptom of the disease is deep pockets forming between your teeth and gums. This happens because your gums are receding, and as your gums recede bit-by-bit, more of your tooth is left exposed and vulnerable to harmful germs. Brush your teeth twice a day and floss frequently to avoid this illness.
What treatments can reverse the adverse effects of sensitive teeth?
Not knowing what could trigger your pain and consequently avoiding certain food and drink prevents you from enjoying all of the good things in life.
Regain your old life back, minus a few sweets and takeout meals, by undergoing these treatment options:
Desensitising toothpaste can help to block pain. Our dentist can recommend an over-the-counter brand that works quickly and effectively.
We can apply Flouride to the affected area. Not only does Flouride help to reduce pain but can strengthen your damaged enamel.
We can cover and protect your exposed tooth roots with fillings. Please note that you will need anaesthesia for this treatment.
You might need a root canal treatment as a worst-case scenario if the decay or damage extends below the gumline and infects the pulp of a tooth. Infected pulp has dire consequences if not removed, where you might even have to extract your tooth.
Are you suffering from sensitive teeth? It sounds like you require urgent dental care. Allow us to tend to your issue calmly and professionally.